Asian Cyber Security Vendor of the Year: Honored for 2016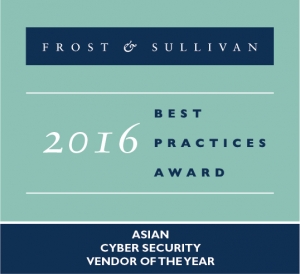 APAC market leader Penta Security Systems Inc. awarded by Frost & Sullivan
Seoul, Korea: On June 15, Penta Security Systems Inc. was awarded the honor of Frost & Sullivan Asian Cyber Security Vendor of the Year. The award was given at this year's 13th annual Frost & Sullivan Asia Pacific ICT Awards Banquet in Singapore.
Cyber Security Vendor
Frost & Sullivan selected Penta Security Systems after concluding evaluations with a team of 30 analysts and consultants based in the Asian-Pacific region. Analysts examined a variety of indicators including revenue growth, market share, leadership in product innovation, major customer acquisitions, and business and market strategy. Specifically, Frost & Sullivan noted that Penta Security continues to make headway into new industries with its smart car security solution, AutoCrypt. AutoCrypt detects vehicular attacks from external systems utilizing its Application Layer Firewall, and has garnered significant attention with the increase in the news of vulnerabilities in smart cars.
CEO and Founder Seokwoo Lee attended the annual ICT Awards Banquet in Singapore in order to receive the award.
Regarding reception of the award, he stated, "We are honored to receive the Asian Cyber Security Vendor of the Year award. It confirms the 19 years of hard work we have put into development in information security." He added, "We will continue to pursue excellence and growth in web and data security – not only in APAC, but worldwide."
Having built relationships globally among enterprises and institutions, Penta Security Systems has grown rapidly along with the rise in demand for web and data security products. In 2015, its web application firewall (WAF) WAPPLES was acknowledged by Frost & Sullivan as the leading WAF in the APAC region in terms of market share.  The top WAF in Korea for three consecutive years, WAPPLES boasts a COCEP™ (Contents Classification and Evaluation Processing) engine, rather than traditional pattern-matching methods utilized by other cyber security vendors.
---
About Penta Security:
Penta Security Systems Inc. was founded in 1997 by CEO Seokwoo Lee. The company is a market leading provider of web and data security products, solutions, and services in the APAC region. Penta Security protects more than 117,000 websites. Additionally, it blocks more than 108,000,000 web attacks per month. Recognized by Frost & Sullivan, Penta Security Systems is the top Web Application Firewall vendor in the APAC Region based on market share.
For more information on Penta Security, please visit www.pentasecurity.com. For potential partnership inquiries, please send an email to info@pentasecurity.com. For more details on the Asia Pacific ICT Awards, please visit http://www.ict-awards.com/.