D'Amo UA (User Application Encryption)
Customizable DeFi solution
for digital asset management
D'Amo UA is a decentralized finance (DeFi) solution developed by Penta Security, with more than 20 years of experience in the IT security industry. D'Amo UA provides optimized convenience and reliable security for managing digital assets. Available in the forms of mobile application wallet, card wallet, device wallet, and IoT wallet, users can choose the most suitable application for their needs.

* D'Amo UA-WLA and D'Amo UA-WLI were developed under the brand name AMO labs. Thus, the product name of the mobile application wallet is called AMO WALLET. Click below to download AMO WALLET on your smartphone.
Crypto Wallet Generation and Restoration
D'Amo UA generates and recovers Hierarchical Deterministic (HD) Wallets compatible with BIP32/39/44 protocols.
BIP32: the first seed standard for HD Wallets

BIP39: transforms mnemonic phrases into hexadecimal 512-bit seeds

BIP44: allows the storage of different currencies and different accounts in one HD Wallet
Not only does D'Amo UA generate crypto wallets, it also allows importation or restoration of wallets generated from other platforms.
Compatible with all crypto wallet usage needs
Multi-mnemonic: registers multiple mnemonic phrases (seeds) into one product (D'Amo UA)

Multi-wallet: registers multiple wallets into one mnemonic phrase (seed), and allows access of the same digital asset in each wallet

Multi-cryptocurrency: stores multiple digital assets in each wallet

Multi-method: supports different wallet generation methods, including initial registration, restoration, importation, and hardware integration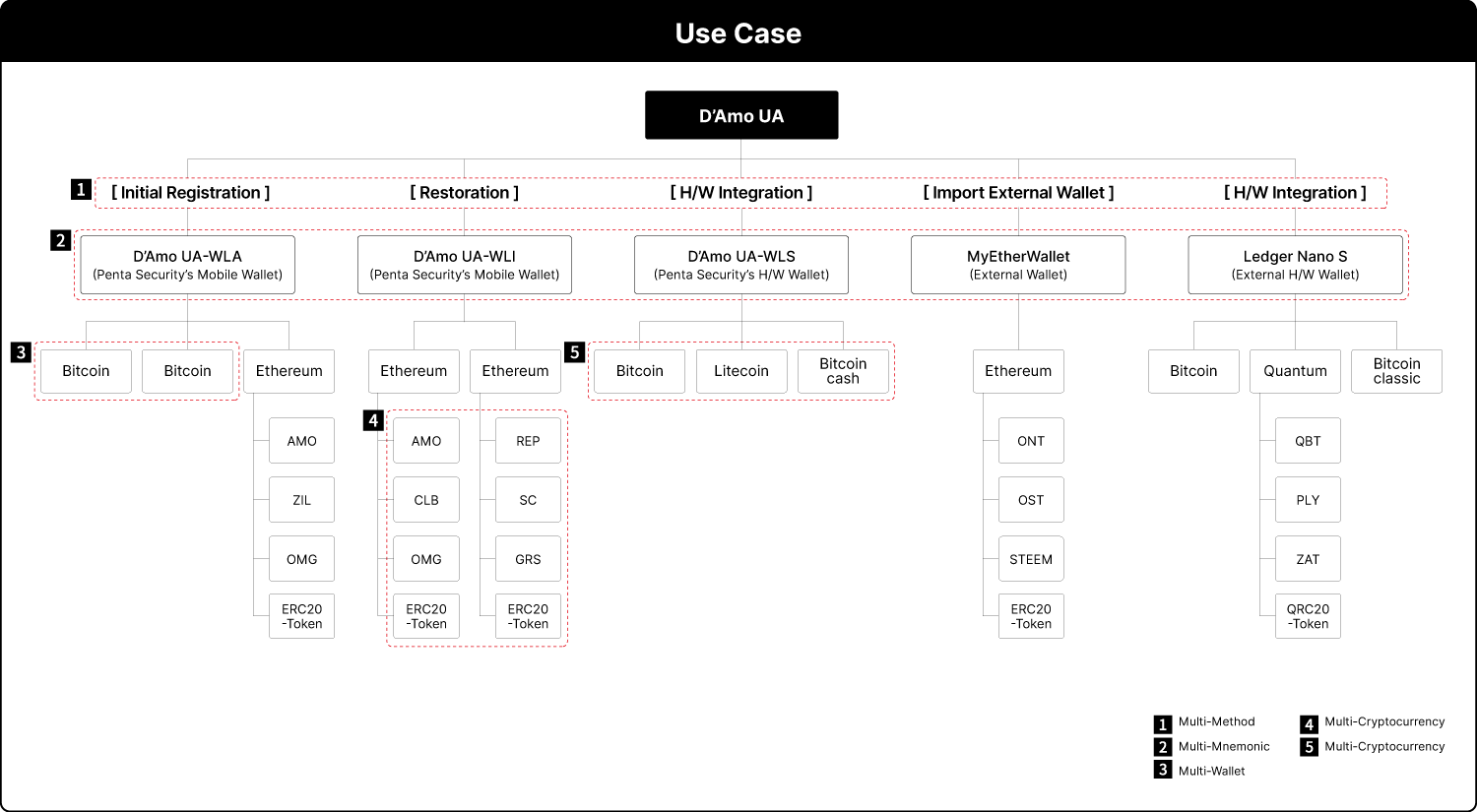 Optimized functionality for each product form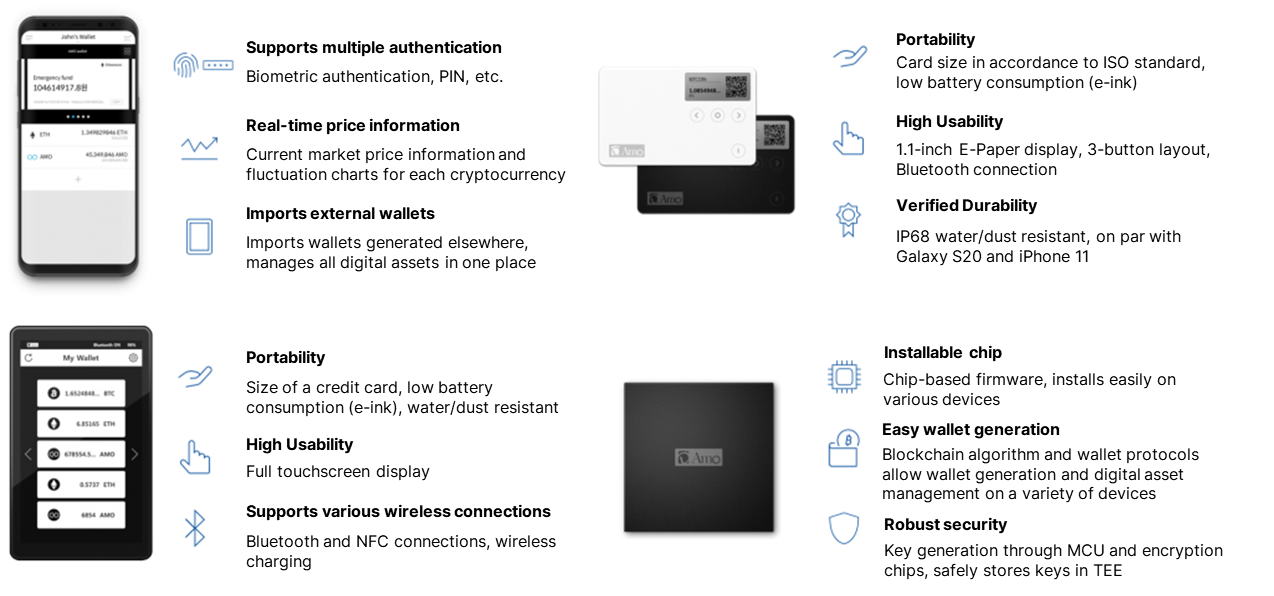 In-House Developed Digital Asset Management Framework
D'Amo UA is developed based on the Penta Wallet Framework, a proprietary development framework created in-house by Penta Security. Compared to products developed on open-source frameworks, D'Amo UA demonstrates considerably faster operational speed with a lower error rate.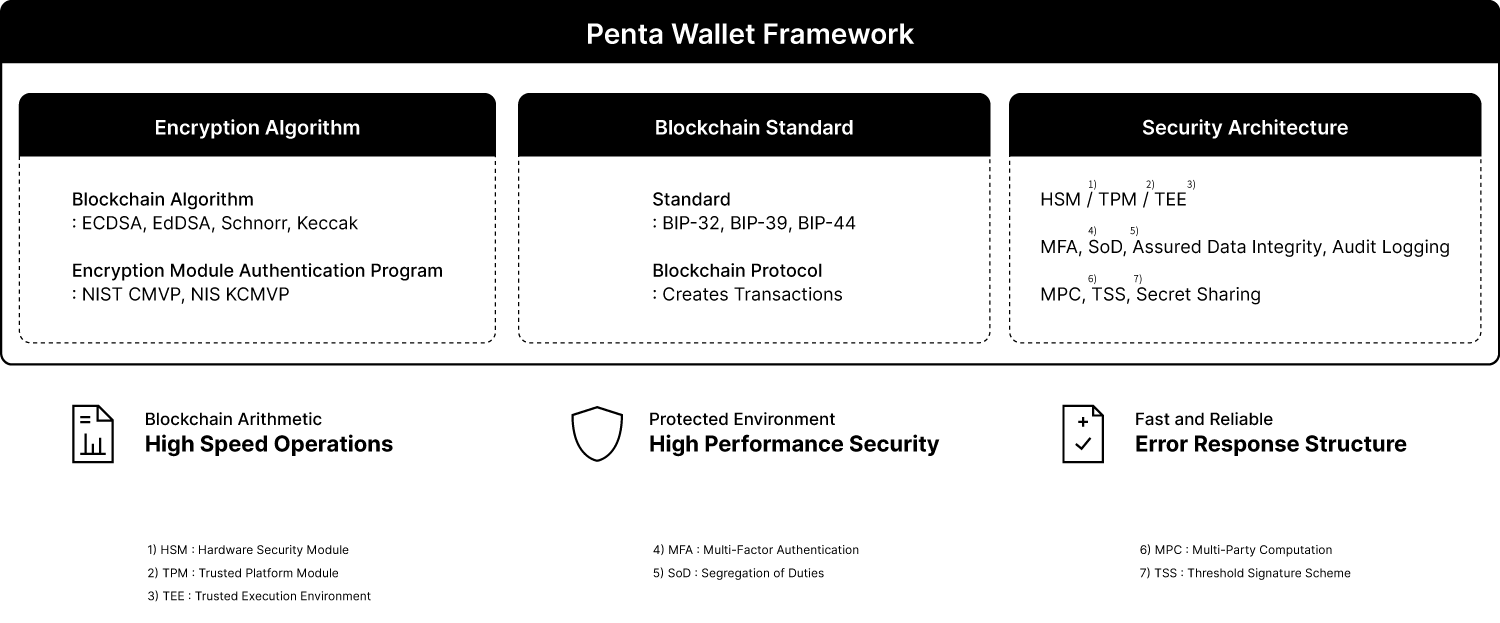 Wireless connection enhances security and convenience
D'Amo UA utilizes Bluetooth to ensure secured connections for transactions. Without the need for any physical connection through USBs, transactions can be made anytime, anywhere.
Key generation and management inaccessible by others
D'Amo UA operates all sensitive information only under a trusted execution environment (TEE), eliminating all external threats.
Customization for B2B2C
D'Amo UA provides white-labeling and customization for businesses who wish to use their own branding.

Based on the Penta Wallet Framework, businesses can develop a wallet with their own UI of choice.
Businesses can customize the wallet with their own brand logo and colors.
Additional custom functions allow further differentiation.