WAPPLES SA (Software Appliance) is a virtual WAF that can be seamlessly integrated with cloud systems and other virtual environments. This solution is a
great fit for enterprise customers such as data centers and hosting providers as well as SMBs such as managed security service providers and private cloud
business infrastructures. WAPPLES SA has support for popular hypervisors including KVM, XenServer, and vSphere.
WAPPLES SA (Software Appliance) generally provides all the capabilities of the hardware WAPPLES appliance with the added ability to scale as your business grows. Based on the same award-winning WAPPLES technology, WAPPLES SA can detect and block known, modified, and zero-day attacks with its
Contents Classification and Evaluation Processing (COCEP™) engine.
28 pre-configured detection rules heuristically and semantically protect websites at extremely low false-positive rates
Validity testing mechanism (Luhn: ISO/IEC7812) prevents leakage of sensitive data
Centralized dashboard aids visualization of threat data
Supports log searches by period/source/URI/country
Exports logs in Excel format and supports backup/deletion/recovery of logs
Easily operable without maintenance by web security experts
Matching the dynamic scalability of the Cloud, WAPPLES SA provides the most appropriate level of protection for any sized company.
Easy Installation and Configuration
Unlike deploying a hardware appliance, implementing WAPPLES SA is an extremely straightforward process. When a client decides to deploy WAPPLES SA, the client receives a DVD file that can simply be imported through supported virtual platforms.
The benefits are:
Minimal changes to existing systems
Quick setup with pre-configured security policies
Intuitive GUI management console allows users to further fine-tune and create robust custom security policies
Independently managed H/W servers and S/W protection with a reverse proxy IP
Increased efficiency in web security management
WAPPLES SA runs as a virtual appliance on the same layer as other virtual images. Therefore, there is no need for the installation of another agent or any other modification of the virtual platform/hypervisor.
Once the proxy IP of the webserver is registered in WAPPLES, the logic-based detection engine of WAPPLES SA will immediately begin examining all web
traffic sent to the registered web server. In general, performance degradation may be experienced when a security solution has more than 3,000 patterns.
With WAPPLES SA, however, such pattern updates are no longer required.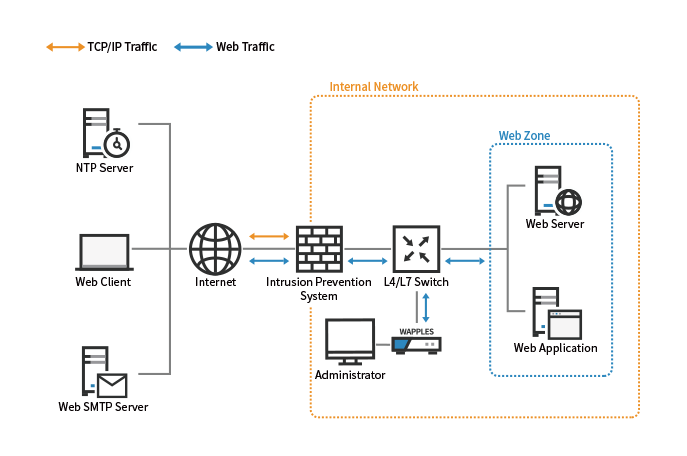 Benefits to Cloud Service Providers
Optimized for integration with cloud systems, cloud providers are able to provide their clients with high-end security services:
1. Increase reliability of cloud service through improved security
2. Build customized management pages with WAPPLES SA's Web API
3. Reduce TCO by utilizing a virtual appliance instead of H/W model
4. Support high availability, complete with policy and log synchronization in real time
5. Receive web attack analysis report for cloud service providers
Class
Value
Performance
High-End
Model
SA-50
SA-100
SA-500
SA-1000
Throughput
100 Mbps
300 Mbps
500 Mbps
1 Gbps
vCPU Core
2
4
8
16
Recommended RAM
4 GB
8 GB
16 GB
32 GB
Recommended Storage
HDD 40 GB
HDD 80 GB
HDD 100 GB
HDD 200 GB
Hypervisors Supported
VMware, Hyper-V, Xen Server, Linux KVM
Public Cloud (IaaS) Supported
AWS, Microsoft Azure, Google Cloud, Alibaba Cloud
*Actual performance may vary depending on multiple factors including system configuration, hardware specifications, and network traffic.