Why Database Encryption Is Essential
A database should utilize quality encryption technology to protect critical data of a company from attempts of threatening information leakage through various attack techniques. In addition, to encrypt the database, database encryption technology needs to be tailored to fit the operating environment of each company.
D'Amo classifies the IT system into each layer to apply the optimized database encryption solution. Depending on the operation environment, Penta Security finds the best solution to guarantee both performance and security without compromise. In addition, it provides the optimized solution for secured encryption key management, which is considered to be a key element for security in this day and age.
Download Brochure
What Makes D'Amo Your Optimal Choice
For companies that are considering deploying encryption technology, D'Amo is the ideal choice of database encryption solution suitable for any operation environment.
Since the 1990s, as various encryption technology concepts such as API, PLUG-IN, and Hybrid emerged, D'Amo has refused to use one specific encryption technology only, and instead applies an optimized encryption technology for each customer's environment.
Penta Security offers various product families to apply optimized performance and security according to the customer's system architecture.
D'Amo offers four product families based on the data processing type by IT system layer structure:
D'Amo Application Level Encryption products
D'Amo System Level Encryption products
D'Amo Network Level Encryption products
D'Amo Key Management products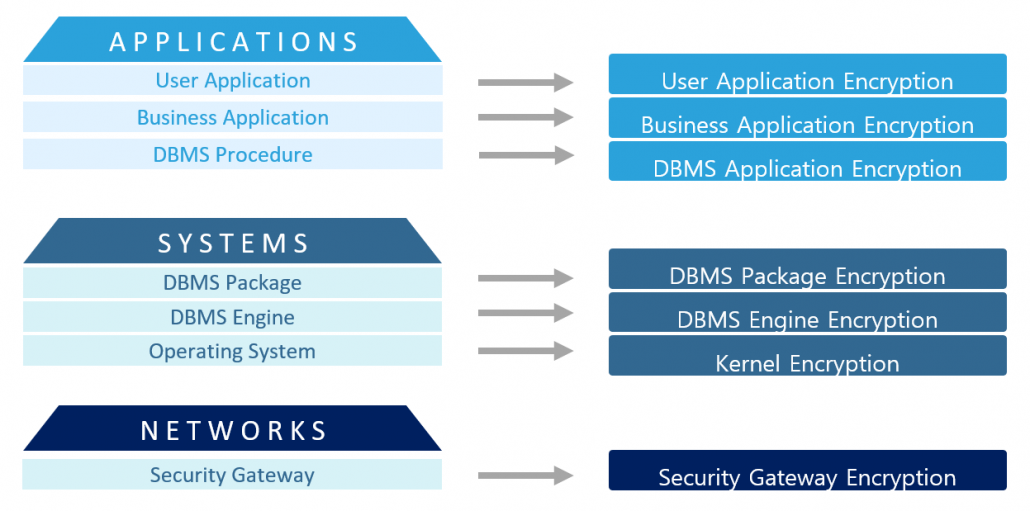 · Meet technical requirements of security for data protection
· Solve compliance issues, including the Privacy Protection Act
· Prevent economic loss and corporate image degradation caused by data leakage
Customer Success Stories
By adopting D'Amo, our customers around the world are able to meet regulatory compliance, as well as to minimize any potential losses associated with data breaches and ransomware attacks.