Penta Security Enters Indonesian Market by Signing New Distributor PT. Prospera Aswindra Teknologi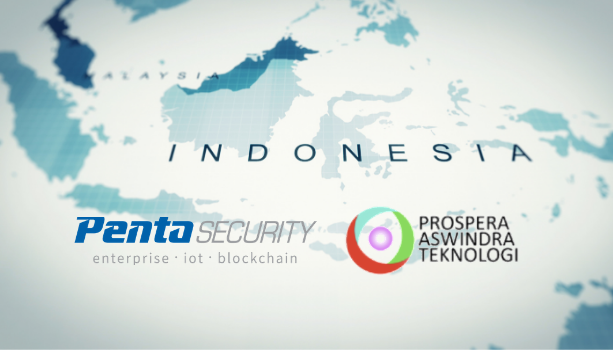 Penta Security Systems Inc. signed a distribution agreement with PT. Prospera Aswindra Teknologi, Indonesia's leading tech distributor for IT security products and solutions. This marks the South Korean security vendor's official entry into the Indonesian market.
Being the largest economy in Southeast Asia and a country undergoing a major digital transformation, Indonesia sees high demand for cybersecurity solutions as governments and businesses face a growing number of cyber threats. To tackle Indonesia's cybersecurity challenges, protecting web applications from web attacks is crucial, making web application firewalls (WAF) a necessity for all organizations.
Penta Security's WAPPLES has been chosen by PT. Prospera Aswindra Teknologi along with a number of other regional distributors, to fill out the WAF portion of their security solutions package. Different from signature-based detection systems, WAPPLES' COCEP engine utilizes dozens of rules instead of thousands of signatures, significantly reducing latency while offering the same level of detection capability. WAPPLES' users can choose from a total of 33 customizable rules to fine-tune their security policies to best handle their environment.
"To overcome the increased sophistication of web attacks, WAPPLES' rule-based COCEP engine operates more logically and efficiently than existing WAFs in the market," said DS Kim, Chief Strategy Officer of Penta Security. "Our priority is to focus on staying ahead of the attacks whilst letting our users operate their businesses in the safest environment. We're excited to move forward with the partnership and provide what's really worth our customers' investment."
Despite travel restrictions caused by COVID-19, Penta Security has been hosting a number of online seminars to support its channel partners, distributors, and business customers. A recent seminar designated for the Jakarta region drew the attendance of more than 50 public and private organizations.
About Penta Security
Penta Security Systems Inc. is a leader in data, IoT, and blockchain security solutions and services. With 23 years of expertise in powering secured connections, Penta Security is the top cybersecurity vendor in Asia, as recognized by Frost & Sullivan, and APAC market share leader in the WAF industry. Penta Security continues its push for innovation as a pioneer in securing blockchain-based environments. For more information on Penta Security, visit pentasecurity.com. For partnership inquiries, email info@pentasecurity.com.
About PT. Prospera Aswindra Teknologi
PT. Prospera Aswindra Teknologi (PAT) is Indonesia's leading distributor of IT security solutions. Established in 2017, PAT offers a comprehensive security package consisting of some of the best products and solutions from trusted vendors across the world. Accompanied by installation and maintenance service, PAT's customers enjoy the benefits of a one-stop solution. For more information on PAT, visit aswindra.co.id.