Hubject and Penta Security Cooperate to Provide First Global Cross Certification for most Secure ISO 15118 based EV Charging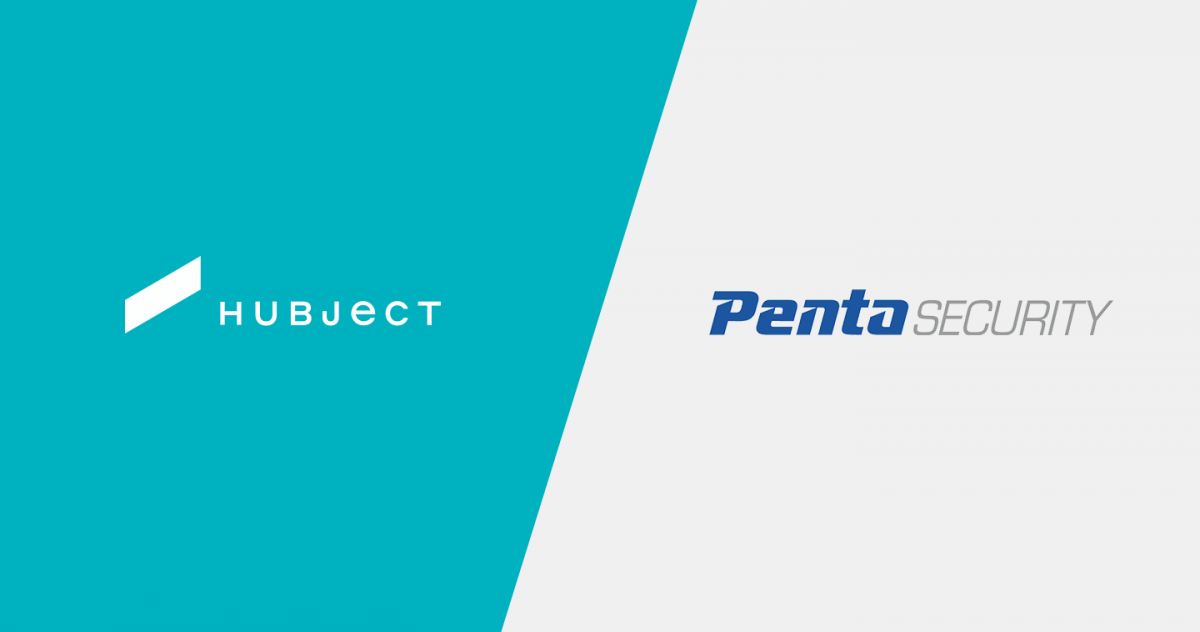 BERLIN, GERMANY | November 14, 2019
Hubject and Penta Security, both Vehicle to Grid Root Certificate Authorities (V2G Root CAs), will complete a direct cross-certification to enable a global use of the existing solutions
The cross-certification eases the global rollout of ISO 15118 based Plug&Charge solutions, enabling interested innovators to effectively choose between the V2G Root CA of Hubject and Penta Security
Hubject and Penta Security today announced their co-operation to enable standardized secure communication between electric vehicles and charging stations. The international standard ISO 15118 is mostly known for the application of the most secure, automated and seamless charging and payment processes for electric vehicles, Plug&Charge. The security of ISO 15118 is based on the automated comparison of stored digital certificates.
The certificates originate from a central, highest certification authority: the Vehicle to Grid Root Certification Authority or V2G Root CA. Hubject and Penta Security are both V2G Root CAs and will now certify each other. Hubject's V2G Root CA serves as a foundation of trust and provides interoperability by cross certifying with the V2G Root CA of the Korean market leader for secure EV Charging, Penta Security. This means that both partners can process not only the validated authentication data of their own Root CA but also that of the other partner. This way, Hubject, and Penta Security provide a joint approach to support companies active in relevant EV Markets like Korea, Europe, and North America.
"Security in EV charging is an infrastructure that allows more openness with improved control. Through this cross-certification realization, we are excited to present the basis for an unrestricted charging environment that provides convenience and accuracy throughout the entire charging and paying process," said Seokwoo Lee, CEO and Founder at Penta Security, a leader in web, IoT, and data security with over a decade of experience in the connected car industry.
"We are working for globally open standards. This goes for security as well. Companies adopting the ISO 15118 standard, especially the Plug&Charge use case have now the security, that, whatever service provider they are choosing to work with, will be supported by the other Root CA operator so that there is no lock-in effect," said Christian Hahn, CEO of Hubject, one of the global leaders of supporting companies on the topic of secure communication between electric vehicles and charging stations.
About Hubject
Hubject simplifies the charging of electric vehicles. Through its eRoaming platform, called intercharge, the eMobility specialist connects Charge Point Operators or CPOs and eMobility Service Providers or EMPs, thus providing standardized access to charging infrastructure regardless of any network. With over 200,000 connected charging points and more than 600 B2B partners across 28 countries and four continents, Hubject has established the world's largest cross-provider charging network for electric vehicles by connecting CPO networks. In addition, Hubject is a trusted consulting partner in the eMobility market, advising automotive manufacturers, charging providers, and other EV-related businesses looking to launch eMobility services or implement Plug&Charge using ISO 15118. In essence, Hubject promotes eMobility and its advancement worldwide. Founded in 2012, Hubject is a joint venture of the BMW Group, Bosch, Daimler, EnBW, Enel X, innogy, Siemens, and the Volkswagen Group. Hubject's headquarters is located in Berlin, with subsidiaries in Los Angeles and Shanghai.
HUBJECT — Heading for the future.
For more information on Hubject and its services, please visit www.hubject.com
About Penta Security
Penta Security Systems Inc. is a leader in web, IoT, and data security solutions and services. With over 20 years of IT security expertise in powering secured connections, Penta Security is the top cybersecurity vendor in Asia, as recognized by Frost & Sullivan, and APAC market share leader in the WAF industry. Driving innovations across encryption, authentication, and signature-free web application firewall detection technology, Penta Security's whole-system approach to security enables resilience in an era of hyper web integration and connectivity. Penta Security drives safer transport through its efforts in smart mobility, providing automotive security for connected and electric vehicles (AUTOCRYPT), automotive blockchain technology (AMO), and a mobility data intelligence platform (MOBILIGENT).
For more information on Penta Security, visit www.pentasecurity.com
For partnership inquiries, email info@pentasecurity.com