Best SME Security Solution at 2016 SC Magazine Awards Europe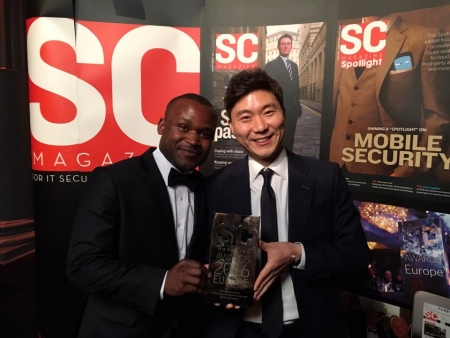 Cloudbric recognized for its Web Application Firewall (WAF) and website analytics features,
designed for small to mid-sized businesses
Seoul, Korea: On June 7th, Penta Security Systems announced that Cloudbric, its full-service website security solution, was chosen as the winner of the Best SME Security Solution in the Industry Leaders category at the 2016 SC Magazine Awards Europe. The award was presented at the annual SC Awards Gala. It was held this year at the stunning Old Billingsgate venue in London. Penta Security was present along with other competitive industry names such as Sophos and Barracuda Networks.
Each year, a panel of IT security experts from the private and public sectors reviews hundreds of entries. They narrow the field down to a select group of finalists. The finalists then go through a rigorous, in-depth analysis that includes applicable research, analyst reports, and/or product reviews. Cloudbric was selected as this year's winner in Best SME Security Solution. The decision was made after a thorough and comprehensive analysis of each finalist.
"It is so important to encourage and praise innovation, recognize those who raise the bar, and reward exemplars who facilitate best practice. Cloudbric is a great example of this within the industry," remarked Tony Morin, Editor in Chief, SC Magazine UK.
Best SME Security Solution
With Cloudbric, all customers receive comprehensive website protection features including a Web Application Firewall (WAF), CDN, and SSL, as well as timely and attentive customer support regardless of the payment plan. Especially the WAF, utilizing Penta Security's patented logic-analysis engine, COCEP™ (Contents Classification and Evaluation Processing), provides customers with deeper assurance in their website protection. Additionally, with the Cloudbric dashboard, users can easily manage their businesses with more reliable numbers. This allows them to make more informed marketing and budgeting decisions. The judges of the SC Magazine Awards Europe agreed that the entry was a strong response.
Head of Planning at Penta Security Systems, Duk Soo Kim stated,
"Through its 19-year-history, Penta Security has sought to bring quality, unrivaled web security to the global market. This was further confirmed for us after reception of the Cyber Defense Magazine Awards back in March for our WAF, WAPPLES, and open source DB encryption solution, MyDiamo. Now, Cloudbric joins the ranks, and we look forward to its continued achievements worldwide."
---
About Cloudbric
Cloudbric is an elite full service website security solution specifically designed for IT novices, entrepreneurs, and small and medium businesses. First launched in 2015, Cloudbric is based on the enterprise level Web Application Firewall by Penta Security Systems, a global information security firm headquartered in Seoul, Korea. Penta Security has served more than 3,100 customers for over eleven years. For more information on Cloudbric's web security service, please visit https://www.cloudbric.com or contact support(at)cloudbric(dot)com.
About SC Magazine
SC Magazine Awards Europe is lauded as one of the most prestigious awards for IT security professionals and products. For more information and a detailed list of categories and winners, please visit http://www.scawardseurope.com/.