IoT devices are connected to the internet, meaning that user experience is made more convenient. Unfortunately, along with convenience comes concern for privacy violation. The openness of information regarding user location and access records continues to increase, and incidents of IoT devices being abused and manipulated are becoming more commonplace. In order to fulfill the crucial need for a security solution for IoT devices, Penta Security launched AuthentiCA to provide powerful but user-friendly IoT security.
AuthentiCA is a cloud-based certificate authority service that allows users to easily issue certificates and manage renewals as well as revocations. AuthentiCA, the simple certificate issuance and management service, is available for anyone.
AuthentiCA is easy, applicable anywhere, and provides comprehensive security.
Provides certificate management services including certificate inquiry, verification, and revocation
Supports certificate renewal function
Securely manages certificate keys
Simple Certification
To make for a convenient user experience, AuthentiCA provides accessible, simple certificate issuance and management – all with just a few clicks.
Diverse Application
AuthentiCA provides certificates that can be used in smart cars, smart factories, smart homes, and smart energy metering devices. With diverse offerings, AuthentiCA is applicable anywhere.
Comprehensive Security
Offering comprehensive security against dangerous IoT threats like identity theft, data leakage, and so on, AuthentiCA provides quality, comprehensive security as well as ease of use.
AuthentiCA provides IEEE 1609.2 certificates optimized for smart cars (On-Board Units) and infrastructure (Road-Side Units). Certificates for Electric Vehicles (ISO15118) are supported starting in January 2018.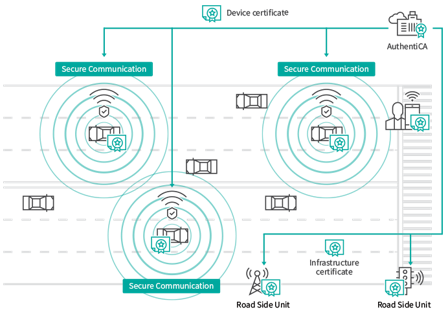 Security for IoT Environments
AuthentiCA provides x.509 certificates optimized for smart factory, smart energy (metering), as well as smart home environments.