PALLET M is a mobile wallet designed for safe and convenient digital asset management.
Based on Penta Security's in-house developed *PALLET Framework, enterprises can change the logo, colors, and add functions. Also, caan easily and safely manage your assets in TEE (Trusted Execution Environment) where no external access is granted. Additionally utilized E2E Security in order to block all malicious access.
*PALLET Framework: In-house developed crypto algorithm and blockchain protocol framework, applied across all PALLET products.
AMO Wallet
AMO wallet is AMO Labs' crypto wallet created via white labeled PALLET M.
With PALLET M, enterprises can easily create the best optimized mobile wallet.
Based on PALLET Framework, enterprisese can create their own UI and wallets.
Able to create customized mobile wallet by using custom logo and brand colors without having to develop an additional UI.
Able to provide extra functions and customized UI based on enterprises' needs and wants.
With PALLET M's optimized UI for crypto wallet management, manage your wallet more efficiently.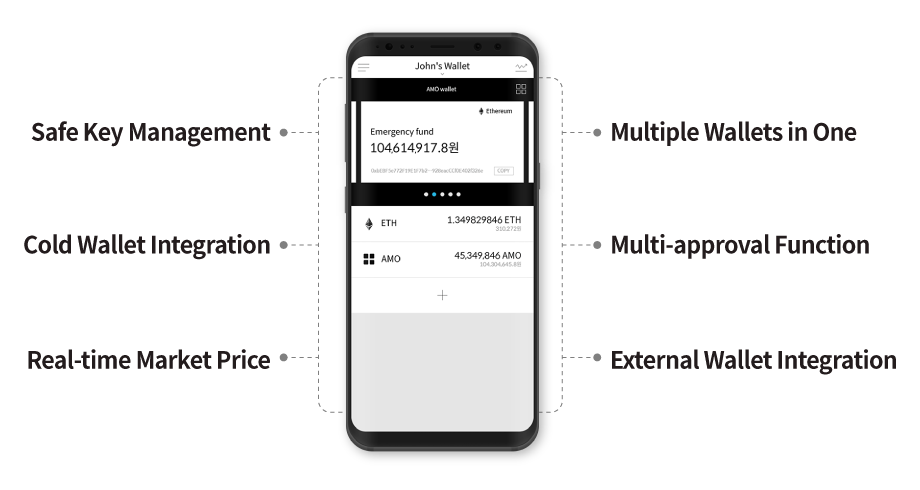 Safe Key Management
Managed in TEE (Trusted Execution Environment) to defend against hacking
Multiple Wallets in One
Able to create different wallets for each cryptocurrency in the one wallet
Cold Wallet Integration
Able to integrate with other cold wallets
Multi-Approval Function
Provides multi-approval function via PIN, biometric authentication, etc.
Real-time Market Price
Available to check real-time market price through multiple exchanges' API integration
External Wallet Integration
Able to integrate external wallets like MyEtherWallet via private key
PALLET M is the deployment of 22 years' industry-specific know-how solutions in a crypto wallet.
Creates and manages keys in TEE (Trusted Execution Environment) in order to provide high-strength security.
Protects the entire wallet environment via E2E (End-to-End) encryption in order to prevent against all malicious access.
Manages PALLET products without any open source by Penta's own technology standard and encryption algorithm. (KCMVP Certified)
Blog Posts
Latest insights about blockchain.
Brochure
All you need to know about PALLET M.
Got a Question?
Get in touch with our security experts.
Cryptocurrency exchanges
Cryptocurrency exchanges concerned about their state of security, or seeking to elevate the security policies of the entire transactional process
ICOs
Companies participating in ICOs
Hot wallet service providers
Companies who want to integrate their hot wallets with more comprehensive security
Other
Blockchain service providers, fintech innovators, etc.