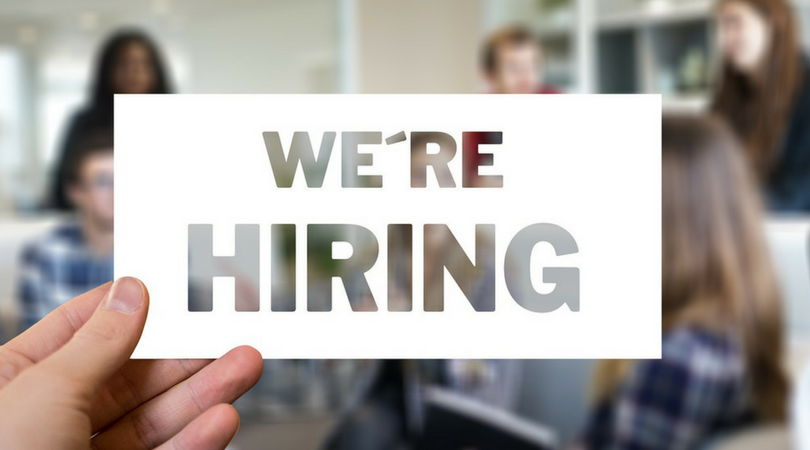 This week during National Cyber Security Awareness Month, the National Cyber Security  Alliance is celebrating "The Internet Wants You: Consider a Career in Cybersecurity." This week's theme addresses an important challenge within the cybersecurity community that affects us all. According to CSO, there will be approximately 3.5 million unfilled cybersecurity jobs by 2021. It is no wonder why organizations are on edge. With a shortage of skilled workers in the cybersecurity field, organizations are left vulnerable to cyber attacks as less and less of our ever-expanding networks can be adequately protected by a limited workforce. That is why the National Cyber Security Alliance is encouraging young adults to consider a career path in the cybersecurity field and hopefully looking to inspire children to become more interested in cybersecurity at the same time. This blog post will address some of the barriers to reaching this goal.
Most college graduates understand that feeling when it comes to applying to their first "real" job. With a polished resume, letters of recommendation at hand, and a burning desire to finally land their dream job, far too many times college graduates get discouraged when they look under the "qualifications" portion of the job posting and find that they are unqualified to apply. For those interested in landing a cybersecurity job, the path might prove to be even more difficult. Here are some of the challenges that have contributed to the shortage in the cybersecurity workforce:
Lack of dedicated cybersecurity programs at many universities:

In a study by Raytheon, U.S. defense contractor and industrial corporation, and the National Cyber Security Alliance,

69% of young adults were not offered classes

necessary to pursue a cybersecurity career, let alone a cybersecurity degree. The lack of such specialized programs are a setback for talented, passionate young adults in pursuing a career in the cybersecurity field. Fortunately, the government has recognized the lack of cybersecurity experts and has designated

200 colleges and universities

as "National Centers of Academic Excellence in Cyber Defense."
Lack of influencers in initiating conversations with young adults about cybersecurity:

Influencers like parents, teachers, guidance counselors as well as state and local officials play a role in piquing young adults' interest in cybersecurity. But generally, there is lack of a discussion about cybersecurity between influencers and young adults. In fact,

30% of millennials stated that no one had spoken to them about cybersecurity

, and only 23% said that someone other than their parents had mentioned it to them.
Cybersecurity jobs stereotyped as being restricted to computer science majors (or related majors) only:

In the past, cybersecurity jobs

were restricted to tech companies and perhaps the financial world

, but the times have changed as all organizations now heavily rely on computers and the Internet to run their businesses, and cyberattacks are now commonplace. Many feel that the new rise in demand for cybersecurity jobs is outpacing the number of cybersecurity experts that are qualified for the role. For this reason, organizations must consider bringing in hires from nontraditional backgrounds who are willing to learn on-the-job and utilize in-house talent to bridge the skill gap.
The government is in competition with the private sector for cybersecurity experts: 

The government has

pushed for cybersecurity training

from an early age, targeting all levels of education and allocating million in grants. However, as mentioned previously, all organizations are vulnerable to cyber attacks, which contributes to the fierce competition with the government in hiring cybersecurity experts. So, while this competition is advantageous in spurring interest in the cybersecurity field as a whole, it contributes the shortage in the private sector, by pitting the public and private sector against each other.
Though some may still feel discouraged in pursuing a career in cybersecurity, as a FireMon survey suggests, experience matters more than qualifications. Surprisingly, 73% in the survey even said that new recruits didn't have to be college graduates to "get the job done." If a cybersecurity degree proves difficult to pursue, young adults can opt for other cheaper alternatives such as enrolling in online programs aimed at getting certified in cybersecurity or applying for free online courses. And it's never too late to start. For veterans, there are added benefits, including free cybersecurity training and certification prep courses.
Help spread the #CyberAware message by sharing our card series, "Bridging the Cybersecurity Skill Gap," on social media. You can find the graphics below and on our Facebook page.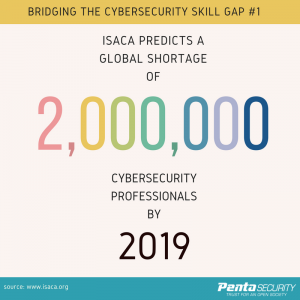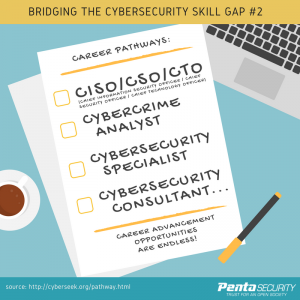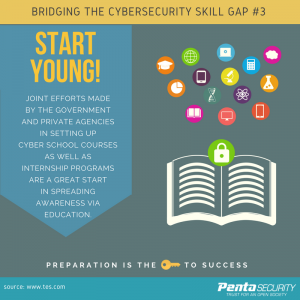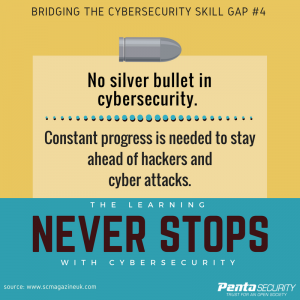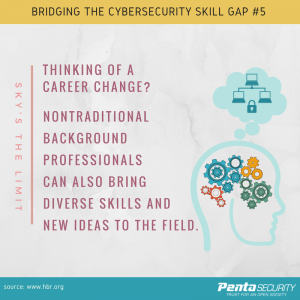 https://www.pentasecurity.com/wp-content/uploads/2017/10/cybersecurity-job-shortage-hiring.png
450
810
Penta Security
https://www.pentasecurity.co.kr/wp-content/uploads/2019/11/ITF-CPB-Member_logo_1-1.png
Penta Security
2017-10-27 09:48:36
2017-12-14 15:39:38
Today's Cybersecurity Job Challenges: Talent Shortage