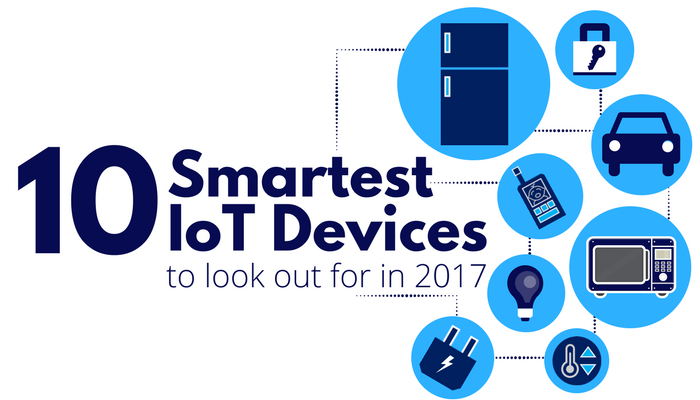 According to Gartner, we should expect to see 8.4 billion connected devices by the end of this year, a 31% increase from 2016. With an increasing number of businesses jumping on the IoT bandwagon, it seems like every day there is a new connected device out on the market. Even a simple internet search on "IoT devices 2017" spews a comprehensive list of both current and upcoming smart devices that users can try out relatively easily. Smart devices are certainly no longer restricted to smartphones, tablets, and computers. In fact, the new IoT trend is gravitating toward the "home automation space," meaning the concept of a smart home is not just a fantasy but an accessible reality. Lifestyle and home IoT appliances are making life easier and convenient, streamlining our household duties after a long day at work. From automatic smart cleaning devices to smart coffee machines, IoT is not only making life easier but also saving us time and money. Excluding smartphones and computers, here is a list of our top picks for the 10 smartest IoT devices and gadgets that you can look out for this year.
1. Smart Locks
Sometimes we leave our homes only to suddenly start wondering if we forgot to lock our doors. We've all been in this nightmare situation, so smart locks were obviously one of the first things that became "smart" when it comes to home appliances in IoT. Smart locks are in fierce competition as the industry is steadily growing. Researchers predict the smart lock market to reach USD$1.101 billion by 2024. Smart locks are also getting creative as several smart locks like the Schlage smart lock now allow for intuitive voice commands and include guest-access features. Others opt for simplicity, allowing you to unlock your doors with the tap of a finger on the lock itself.
2. Smart Sprinklers
Garden lovers, have you ever wanted to automate your watering habits? Besides giving you full control from the convenience of your smartphone, smart sprinklers like Rachio minimize runoff, saving you water and money in the long run. It also lets you input specific yard details such as plant types, soil types, and sun exposure to give you a more customized watering schedule. Like with most IoT devices, you can monitor the status of your yard and receive alerts when there are changes due to weather or seasonal changes right from your phone.
3. Smart Plugs
Small, convenient, and safe – it seems like smart plugs are here to stay with a myriad of models already on the market. Smart plugs save you the trouble of having to go directly to an app every time to turn your electronics on or off. Instead, you can create a daily schedule for them so they can automatically turn on and off at desired times. And even if they are not on a schedule, the smart device can turn them off based on an integrated heat sensor. Some smart plugs such as the Zuli Smartplug even recognize the edges of a room to help users automate lights based on which room they are in. Smart plugs are not only great for conserving energy but also reducing your electricity bill.
4. Smart Baby Monitors
Digital parenting is now an idea of the present with IoT devices such as smart baby monitors and smart cribs. However, it is the smart baby monitors that take the win as they are constantly evolving. High-resolution monitoring is possible with most smart baby monitors, and some are even implementing infrared vision wide lens making it a great option for nighttime monitoring. For worried parents who are concerned about their baby's health, a monitor like Withings Home can even monitor air quality.
5. Smart Cookers
How can we forget about one of the most important duties in our daily life? Many take pleasure in preparing delicate meals, and smart kitchen appliances make it that much easier for us to maneuver our way around the kitchen. Imagine being able to cook while sitting in traffic on the way home. The Tefal Actifry Smart XL is one smart cooker that lets you "cook" directly from over 200 devices. It does the hard work for you by controlling the temperature and gives step-by-step video instructions for bits the fryer can't quite do on its own.
6. Smart Thermostats
Keeping your home cozy while saving money is ideal for homeowners. With electricity bills running high, a smart thermostat is a smart move. As with others on the list, a smart thermostat allows users to control heating or cooling settings from internet-connected devices like smartphones, wearables, or other devices. The majority of smart thermostats can learn temperature preferences like Nest so when you roll out of bed you won't even have to touch the thermostat or open an app. It will automatically raise or lower the temperature depending on your preferences. Saving you time, perhaps it can even allow you a couple more minutes in bed.
7. Smart Mirrors
Besides our homes and gardens, IoT devices have made their way to.. .our faces –with a smart mirror. Smart mirrors enable users to intelligently analyze and assess skin conditions including wrinkles, dark circles, pores, and other blemishes. HiMirror, for example, recommends personalized skincare routines to improve whatever skin condition you may have. The device does this by anonymously collecting data and using the power of big data to develop custom routines. The mirror is equipped with a camera that can only be activated with an individual security key. With a built-in system and data protection, HiMirror promises to prevent any invasion of privacy.
8. Smart Cleaners
Robot vacuums aren't anything new. But now, they are smarter than ever. Everyone dreads chores, and after a long day of work the last thing we want to do is clean the house. Coming home to a clean den is ideal for work professionals who may be living alone or lack time to tidy up. Depending on the design, smart vacuums come with various features, including being able to squeeze into tight corners, having a "self-rescue" function in the case it gets stuck, offering a multifunction navigation system, and offering different cleaning power settings. A smart cleaner like iRobot Roomba 870 automatically returns to its charging base when the battery is running low so there is no need to worry about it being out of commission when you are away from home gathering dust.
9. Smart Refrigerators
Who hasn't woken up in the middle of the night and snuck into the kitchen for a late night snack? Weren't there times you walked away disappointed that there was nothing in the fridge? Smart fridges are changing the way we manage our groceries. With Smarter's FridgeCam users can visibly see what is in the fridge from the palm of their hands, even without getting up from bed. The Fridge Cam can also detect expiration dates, offer tips on how to use the groceries before they spoil, and even display the location of nearby grocery stores.
10. Connected Cars
To top off the smart IoT list, we've listed connected cars as our "smartest." While self-driving cars make it seem like we are heading towards a futuristic "Jetson's" world soon, in a way we are already there. Connected cars, not to be confused with fuel efficient gas "smart" cars, have been in existence since 1996. General Motors was the first automaker to introduce connected features to the market. However, a modern connected car can launch an automatic self-check once the engine starts. Features range from personalized greetings, alerts on weather conditions, and preferred destinations based on settings. Car owners can now remotely unlock and start their cars with a smart device and even track their cars if stolen.
IoT has become a field where creativity and innovation come together. Over the recent years we have seen the launch of intriguing concepts for everyday device and gadgets. But what makes a "smart" IoT device? An IoT device worth spending money on should be easy to install, customizable, flexible, and most of all – secure.
We've listed our top "smartest" IoT devices, did your favorite make the cut?
https://www.pentasecurity.com/wp-content/uploads/2017/05/Smartest-IoT-devices.png
400
700
Penta Security
https://www.pentasecurity.co.kr/wp-content/uploads/2018/04/enterprise-iot-blockchain.png
Penta Security
2017-05-26 14:09:51
2017-12-14 15:19:04
The 10 Smartest IoT Devices to Look Out For in 2017